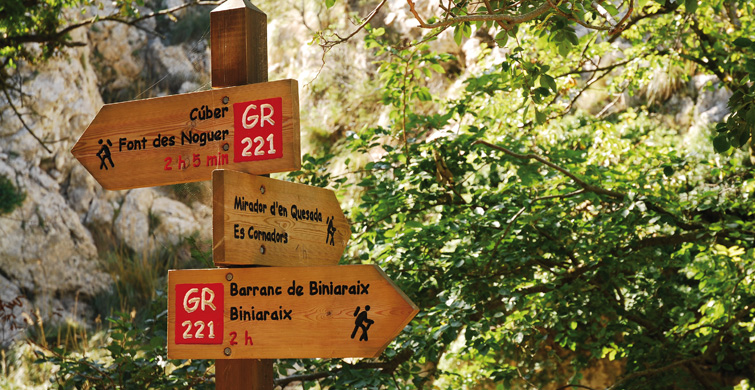 In mid-February at Soller spring begins to appear and sunny days give away ideal temperatures for hiking. The flowering almond trees paint a bucolic landscape in the Sierra de Tramuntana. The green – pink – gray contrast of the mountains offers tourists an extra for hiking in Soller. Often, at this time of the year, mountains of Soller Valley get covered by snow. Many people come for holidays to climb the peaks and visit the 'homes of snow' where snow and ice were stored for later selling.
Soller, privileged location for hiking
The town of Soller is located on the northwest side of the island of Mallorca, in the heart of the Serra de Tramuntana; this prime location has made it a must for all walkers who visit our community.
There are many trails to walk around Soller Valley of different difficulties. Ideal to wander with family or friends. You can get advice from our receptionists to schedule a tour, or visit the Websites we recommend below. The site of the Balearic Islands details and describes routes around Soller. We also recommend Wikiloc.com (the web and the app) where you can find routes, descriptions, images and levels of all routes around the Hotel Es Port.
Gr221 – La Ruta Pedra en Sec (dry stone), 

is a trail

 

that crosses the

 

Tramuntana mountains

from north to south,

from

Pollensa

to Puerto de

Andratx.

Although

the entire route

is a journey

of

several days

, you can

make

a small piece

 

around

Soller

to catch

the essence

of the route and

then return to the

Hotel

Es Port

to rest.

Easy 10km – One of our recommendations is the route: Soller – Biniaraix – Fornalutx – Binabassi – Soller. It is an easy 10 km round trail. It climbs the mountains surrounding Soller to visit the unique villages of the area.
Easy 1km – For those who want to walk a short but worthy trail, we recommend the rout of 'Ses Puntes'. The last piece is a little rocky and it can be hard for some people, but the final views are totally worthy.